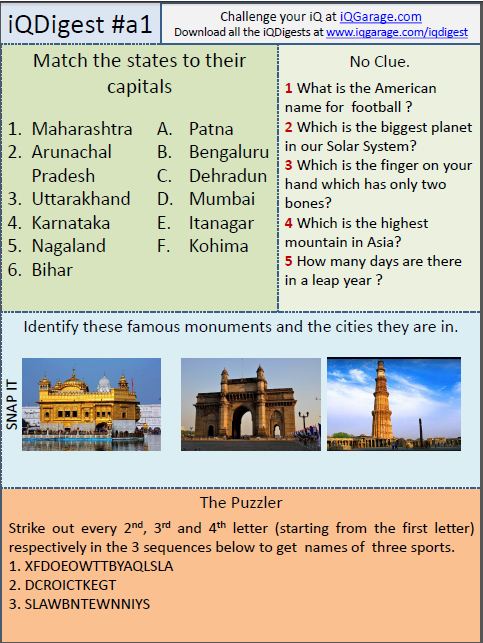 Like quizzes and puzzles?
The iQDigests come in three levels:
Level A for ages 5-8 (Class 1-4)
Level b for ages 9-12 (Class 5-8)
Level c for ages 13-117 (CLass 9 – Retired)
They can be downloaded in the pdf format. Attempt the questions on your computer or mobile/tablet with the pdf or print them to take home for the weekend. The font size is good enough for them to be printed on one side of an A4 paper (Most digests are of 2 pages).
---
| Level a | Level b | Level c |
| --- | --- | --- |
| | | |
| [download id="5986″] | [download id="5991″] | [download id="5993″] |
---
| Level a | Level b | Level c |
| --- | --- | --- |
| | | |
| [download id="5962″] | [download id="5970″] | [download id="5972″] |
---
| Level a | Level b | Level c |
| --- | --- | --- |
| | | |
| [download id="5945″] | [download id="5948″] | [download id="5951″] |
---
| Level a | Level b | Level c |
| --- | --- | --- |
| | | |
| [download id="5927″] | [download id="5932″] | [download id="5934″] |
---
| Level a | Level b | Level c |
| --- | --- | --- |
| | | |
| [download id="5910″] | [download id="5912″] | [download id="5914″] |
---
| Level a | Level b | Level c |
| --- | --- | --- |
| | | |
| [download id="5883″] | [download id="5886″] | [download id="5889″] |
---
| Level a | Level b | Level c |
| --- | --- | --- |
| | | |
| [download id="5860″] | [download id="5869″] | [download id="5872″] |